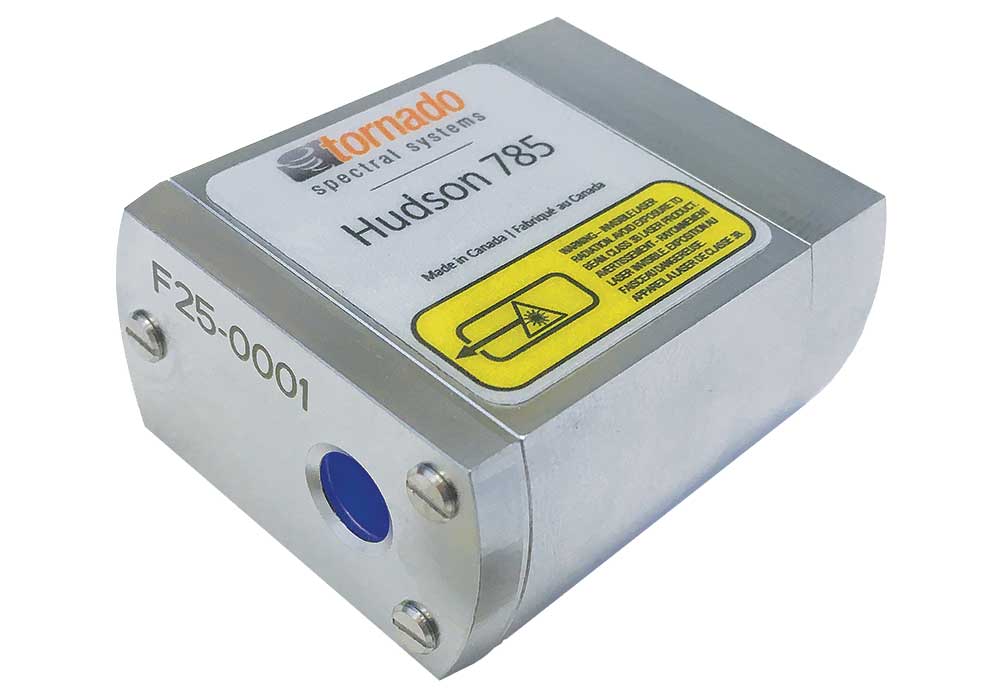 Hudson 785 Non-Contact Raman Probe
High-performance sampling for quantitative analysis
Optimized for compatibility with Tornado's HyperFlux™ PRO Plus
Robust and versatile for process and lab applications
Compact and lightweight
Request Datasheet
Probe head optimized (etendue-matched) to spectrometer, further boosting the throughput efficiency and measurement sensitivity
Interchangeable sample optics tailored to the application – allows for superior representative sampling and reproducibility
Large-spot stand-off sampling for powder blending and feed frame
Focused-spot stand-off sampling for solids and transparent liquids
Uses robust single-core fiber optic cables (instead of fiber bundles) which can run long distances and be connected to a multiplexer
Compact size and shape, fits into constricted spaces
Size: 2.16 x 1.77 x 1.01 inches
Weight: 0.75 lbs. (0.34 kg)
Excitation Wavelength: 785 nm
Operating Temperature: 0 to +40˚C
Optical Fiber Connections

FC/PC 105 μm NA=0.22 fiber optic cable for excitation
FC/PC 300 μm NA=0.22 fiber optic cable for collection
For ultimate versatility, speed, and sensitivity, Tornado's Hudson 785 non-contact Raman probes feature a high-performance optical interface which enables even the most demanding process or lab applications. The Hudson 785 is optimized for compatibility with Tornado's HyperFlux™ PRO Plus analyzer, providing efficient delivery of the excitation beam and collection of the Raman-shifted light. Its rugged and robust construction allows for superior representative sampling and measurement reproducibility for a wide range of applications including solids, slurries, powders, and heterogeneous mixtures.
Three different sample optics are available with the Hudson probe head: a short-focus 8 mm lens, a long-focus 25 mm lens, and a large-spot non-focusing optic that can measure samples over a range of distances. These optics modules can be easily swapped to optimize the optical sampling for different types of samples and containers.
Raman Lens Non-Contact Probe Design
The probe is designed for a single 105 µm excitation fiber and a single large 300 µm collection fiber, which can be multiplexed such that multiple Hudson probes can be connected to a single PRO Plus analyzer. With a stainless steel enclosure and sanitary finish (Ra 15 microinch), Hudson is sealed against liquid wipedown/spraydown and airborne particulates, and the probe's small size permits it to be mounted in constricted spaces. Hudson can be used for a wide variety of non-contact scenarios, including measurements through windows, sight glasses, sample containers, or in free space, with both fixed sample positions and variable sample working distances.
Improve Analysis
Sampling through site glass to avoid exposure of personnel to samples or exposure of samples to atmosphere
Large spot provides superior representative sampling
Large spot mode well-suited to moving powders on a process line
Long fiber runs accommodated
Multiplexing possible to amortize measurement costs
For pricing details, further information or to find out how Hudson 785 can assist you with your application, simply contact a member of our sales team at sales@tornado-spectral.com
Please fill out the form below
Technical Note
OPIS 35 Configuration for ATEX Zone 0
This technical note discusses how Tornado's OPIS 35 ATEX Raman Laser accessory and HyperFlux PRO Plus allow Raman analysis to be performed safely in an explosive atmosphere.
Request the Full Technical Note: sales@tornado-spectral.com