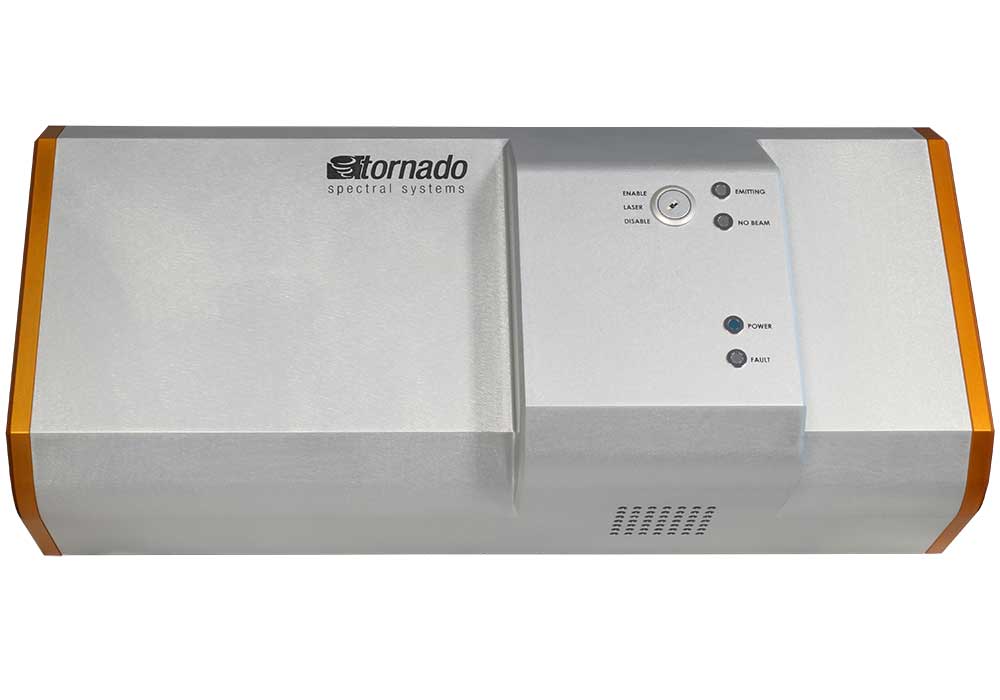 HyperFlux™ PRO Plus Raman Spectrometer
Higher Raman Sensitivity Than Ever Before Possible
– More accurate identification and quantification
– Faster, high-precision measurement
– Lower laser power operation
Request Datasheet
Raman measuring principle
Embedded 785 nm laser
spectral range covers 99% of industrial chemicals
Dual fiber optic connectors for remote measurements up to 100 meters away
More accurate identification and quantification for challenging mixtures and low concentration levels
Faster measurements of dynamic reactions
Lower laser power operation (especially in hazardous environments)
Small footprint, lightweight and portable
Laser Wavelength: 785 nm
Laser Power: 20 mW up to 495 mW
Spectral Range: 200 cm-1 to 3300 cm-1 (Raman shift from 785 nm excitation)
Probes: Immersion and Non-Contact
Input Power Requirements: 100 V to 240 V AC line power
Storage Temperature: -20 to +50 degrees Celsius (-4 to 122 degrees Fahrenheit)
Fiber Length : 3 meters standard – Different lengths are available upon request
Dimensions: 18.4 x 8.5 x 5.4 in (46.7 x 21.6 x 13.7 cm)
Weight: 22 lbs. (9.8 kg)
Tornado's HyperFlux™ PRO Plus is a complete Raman spectroscopy system including a proprietary HTVS™ -enabled spectrometer, a high-quality stabilized laser, multiple laser safety interlocks, temperature monitoring and dynamic re-calibration, and automated system health monitoring and fault detection. This powerful, reliable, and easy-to-use instrument is contained in a small, lightweight, cost-effective package which is readily deployed in both in-line process and laboratory settings.
Higher Raman Sensitivity Than Ever Before Possible
Raman spectroscopy is a powerful analytical technique, but Raman systems have traditionally been limited by a lack of sensitivity due to the input slit trade-­off between resolution and throughput. What is unique about our technology is that the HyperFlux™ PRO Plus uses a proprietary HTVS™-­enabled spectrometer to deliver better Raman sensitivity than ever before possible, designed to provide users with faster measurements (10x to 30x) for better process responsivity, better sensitivity for lower detection limits, and permitting reduction of the laser power without sacrificing performance. When compared to other systems, our spectrometers are designed to provide 10X photon throughput.
Combined with their small size and low cost, Tornado's non­destructive, real-time measurement solutions offer numerous benefits for established analytical practice and facilitate broader adoption of Raman methods for pharmaceutical, petrochemical, food, biotech, and other applications.
For pricing details, further information or to find out how the PRO Plus can assist you with your application, simply contact a member of our sales team at sales@tornado-spectral.com
Please fill out the form below
Technical Note
OPIS 35 Configuration for ATEX Zone 0
This technical note discusses how Tornado's OPIS 35 ATEX Raman Laser accessory and HyperFlux PRO Plus allow Raman analysis to be performed safely in an explosive atmosphere.
Request the Full Technical Note: sales@tornado-spectral.com