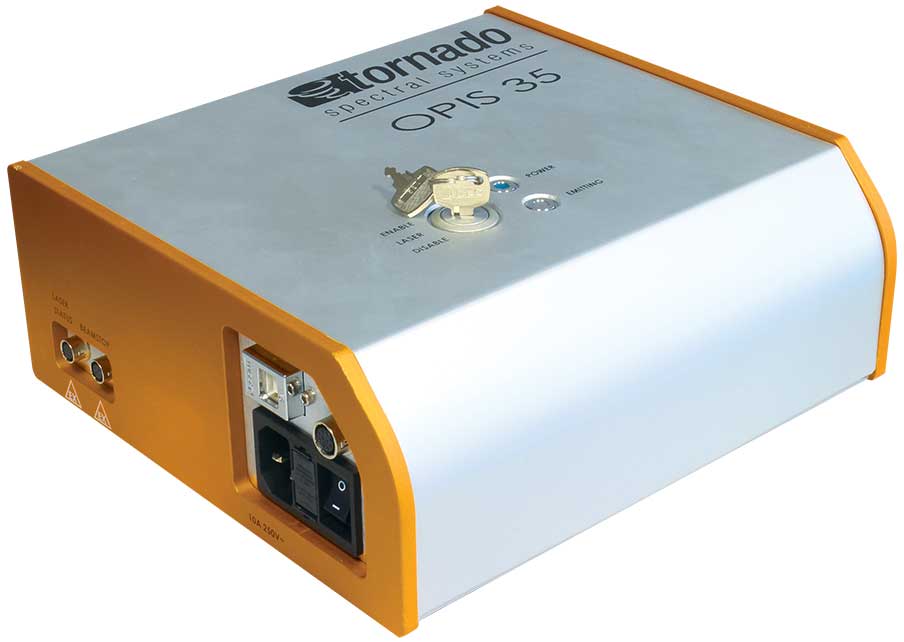 OPIS 35™ ATEX Safe Laser
Measure safely without sacrificing performance
– Certified inherently safe for ATEX Zone 0
– Easy to configure
– Small size delivers colossal impact
Request Datasheet
Inherently safe laser will not ignite potentially explosive atmosphere
Satisfies regulatory requirements of many petrochemical, fine chemical & pharmaceutical manufacturing plants
Optical and electrical signaling in accordance to IEC 60079-0, 60079-28, and 60079-11
Excitation Laser Power: <35mW
Excitation Laser Wavelength: 785 nm
Laser Emission Mode:  Continuous Wave
Size: 8.14 x 8.26 x 3.38 inches (20.7 x 21.0 x 8.6 cm)
Weight: 5.5 lbs. (2.5 kg)
AC Power Input:  8 W at 120 VAC or 240 VAC (±5%) at 50 Hz or 60 Hz
Operating Environment Range: +10 to +35°C with relative humidity ≤ 65%
OPIS 35™ ATEX Certified Laser Safety Accessory
Tornado's OPIS 35™ is a high-performance, compact, lightweight, and durable laser safety accessory for the HyperFlux™ PRO Plus Raman analyzer. The unique design enables simple attachment to the PRO Plus allowing high accuracy measurements even at low laser power settings and ensures full compliance for an ATEX Zone 0 explosive environment.
Achieve Safety Without Sacrificing Performance
Measuring instruments certified for use in a hazardous area must be designed to operate without being able to discharge a spark. Coupled with the HyperFlux™ PRO Plus, the OPIS 35™ provides unequalled Raman sensitivity, safety, and convenience. You get the same level of accuracy with the OPIS 35™, but it is suitable for hazardous environments such as:
Petrochemical
Speciality Chemical
Liquefied Natural gas (LNG)
Compliance
Designed and tested to meet the environmental, longevity, and robustness requirements of a hazardous environment, the laser power is controlled to stay below the 35 mW safety threshold established by the ATEX/IECEx regulations.
The OPIS 35™ was designed pursuant to the set of IEC 60079 standards specifying the requirements for construction, testing, and marking of equipment capable of putting optical radiation and electricity into a regulated explosive atmosphere. The OPIS 35™ is certified by two regulatory bodies, ATEX and IECEx, which issue the following marks for this device:
ATEX: Ex II (1) G [Ex ia op is IIC T4 Ga]
IECEX: [Ex ia op is IIC T4 Ga]
Please fill out the form below
Technical Note
OPIS 35 Configuration for ATEX Zone 0
This technical note discusses how Tornado's OPIS 35 ATEX Raman Laser accessory and HyperFlux PRO Plus allow Raman analysis to be performed safely in an explosive atmosphere.
Request the Full Technical Note: sales@tornado-spectral.com