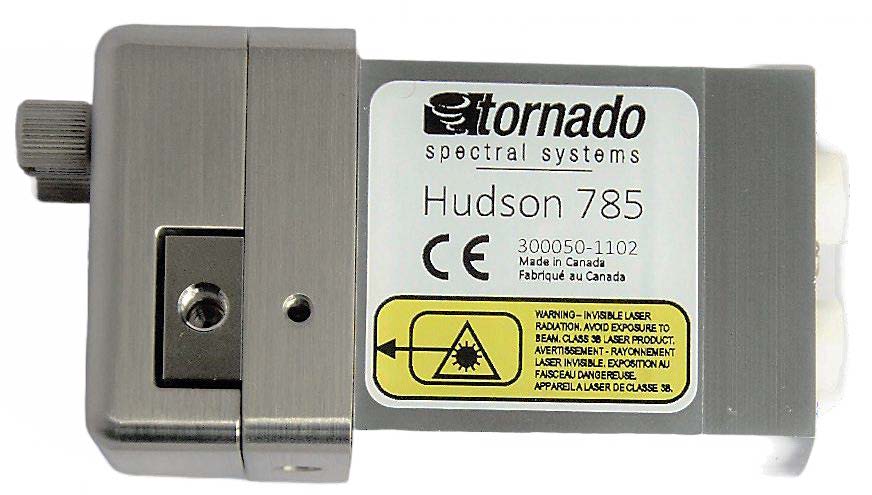 Hudson™ Probe with Micro Flow Cell
High-performance process monitoring of bioprocess samples
Optimized for compatibility with Tornado's Raman analyzers

Robust and versatile for a wide range of biological processes
Request Datasheet
Tornado's Hudson™ Probe with Micro Flow Cell
is a high-performance Raman flow cell system
optimized for use with Tornado Raman
analyzers. With an internal volume of less than
50 µL, ports for fingertight fittings, and an ultra-pure sapphire window, the Hudson Micro Flow
Cell product is ideally suited for a wide variety of
process and laboratory flow scenarios.
Flow cell manufactured by Schott Glass can be removed for autoclaving or other sterilization process, or replaced as necessary under a single-use paradigm.
The finger tight fittings with integral ferrules are ideal for making solid, secure high-pressure connections with no dead volume into the 10-32 port with 1/16" OD tubing.
Excitation Wavelengh: 785 nm
Spectral Range: 200 cm^-1 to 3300 cm^-1
Excitation Fiber Input: FC/PC, NA = 0.22, core diameter = 105 μm
Collection Fiber Output: FC/PC, NA = 0.22, core diameter = 300 μm
Size: 3.33 x 1.77 x 2.35 inches
Weight: 0.63 kg
Operating Temperature: +10 to +40˚C
Surface Material: AISI 316
Surface Finish: Ra 0.8 um (32 uinch) on probe assembly exterior surfaces
Relative Humidity: 20-80% RH (non-condensing)
"Tornado Spectral Systems' Raman solutions enable applications, that were just not doable before."

What our
clients say
– Sebastian, Analyticon Instruments GMBH