Webinar – What's New at Tornado: Advances in Process Raman Deployment
Tornado has some exciting developments in the pipeline for 2022 to strengthen and build our market in Raman spectroscopy. Please join Mark Kemper, Director of Applications Development and Customer Success, in Tornado's first webinar of the year What's New at Tornado: Advances in Process Raman Deployment and have your questions answered on March 1 at 9am and 9pm EST.
Tornado Spectral Systems is an innovator in process Raman spectroscopy. As developers of the game-changing High Throughput Virtual Slit (HTVS™) technology, we have made a strong impact on the market with respect to demonstrably superior performance compared to conventional Raman systems. This has enabled our customers to achieve comparatively lower limits of detection and/or to achieve faster measurements, both resulting in the potential to augment process control. The performance enhancements facilitated by HTVS™ potentially take such control to a new level with improved process understanding, detection and correction of spurious events and confirmation of acceptable process operation.
However, performance is of limited value if it cannot be properly deployed in process environments. Since the introduction a few years ago of our Hyperflux™ PRO Plus Raman analyzer, a process-oriented device, Tornado has been working on improving customer experience and increasing user confidence with respect to process deployability of TSS equipment. Product introductions to broaden deployment have been the core of our focus. The prime example of this is our OPIS™ unit (introduced in early 2020 and enabled by our patented HTVS™ technology), a device with a unique approach designed to comply with ATEX requirements in an optically inherently safe manner (complete with <op is> certification) suitable for all ATEX zones (zones 0, 1 and 2). Our 8-channel multiplexing capability is another example of enhanced deployability that we have developed in the recent past to give customers maximum flexibility for their processes.
We invite you to hear more about these developments in the 2022 Q1 installment in our webinar series, "What's New at Tornado". You'll develop an appreciation for Tornado's continued evolution to a leadership position in this market.
Please click the PDF below and register for this exciting webinar today.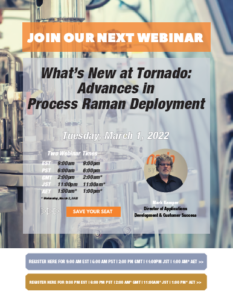 If you would like to discuss your application and are considering adopting Raman spectroscopy as a process analytic technology, please contact us at [email protected].